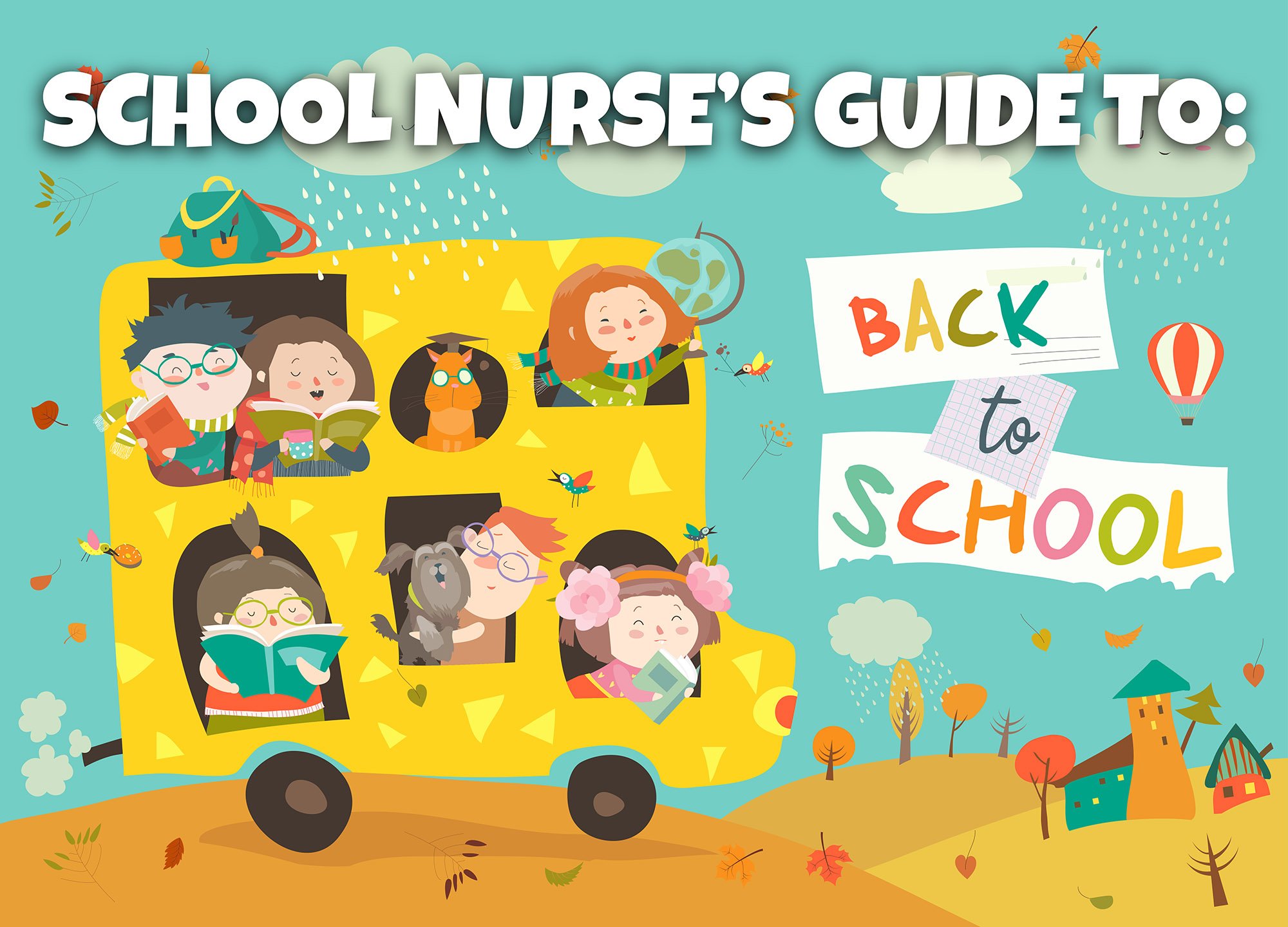 School Nurse's Guide to Back to School
Today is day one of the new school year. Today, after getting to school and getting hugs from some of my favorite people, I mosied back to my office to start digging out of the pile that usually accumulates after a summer of school cleaning and office organization. Summer is over...I am sad...but also excited. Excited? Sure I am! After all, it's a new beginning with goals to make (and later regret when there was not enough time to get them all accomplished). But, hey! For the next 287 days until summer break, I am sure to get something done (but likely not everything).
Summer is over. It seems that I spent all of the summer in the yard building a garden and trying to finish up so I can work on other projects. But there's never enough summer to get it all done. Now it's August...the equivalent of a long Sunday evening for the 5-day-a-week-ers. It's time to get ramped up, prepared, and organized for the school year to come. What's first?
My outline for the school year is pretty simplified; it leaves plenty of room for the other things that will always pop up. If you've been a school nurse for a school year, you know that the first of the school year is all elbows-and-you-know-what-holes. It's go-go-go!
Organize Your Office
Purchase and organize new nursing supplies
Clean out files and shred confidential (outdated) forms and notes that may be lingering from the past year.
Refresh your office supplies.
Get your teachers organized. A small supply of BandAids and gloves goes a long way to reduce your traffic and keeps the children in the classroom for those "subjective" owwies.
If you are fortunate to work at two (or more) schools, you may not be present during medication time or when a PRN is needed. This is a good time to offer training (or a refresher) to those persons that may be giving medications to your students. Training should include:
Medication dispensing
Confidentiality
Health room log (the MAR)
I do a staff-wide teaching on seizures, allergies (including epi-pen administration), and basic first aid (including "bumps-on-the-head" symptoms). They all know when to call me and when to call 911.
This is month one; you will be torn with 100 "RIGHT-NOW" duties, and all are equally important. Where to start? Immunizations will be one of your top priorities. But, there are those tasks that trump even immunizations.
Focus on allergies. I review each and every child's record regarding allergies and make sure the dietary staff (the wonderful lunch ladies) know who's allergic and to what. Sometimes you will find that your software will not "communicate" with the kitchen's software. You may enter an allergy, but the kitchen staff will not know unless they are told. (I'll have an article out soon showing you how I do this. Do you subscribe to my newsletter?).
You'll be giving medications on day 1 for sure. Get your MAR ready! Parents and students will be bringing in medications. Here's what I do:
Have the parent or guardian get the medication authorization form filled out and signed by the doctor. You'll run yourself ragged trying to prepare and fax all the forms to each and every physician. Some will not be returned. These are the ones you'll end up either faxing over to the physician or running down to the office to get the form filled out (it happens).
Create a medication administration record for that child and that specific medication.
Secure the medication under lock and key, with very limited access to only those responsible for medication administration.
Alert the teacher that they have a child that takes scheduled medications. You could let the teacher know that there is a PRN medication as well and what symptoms (behaviors) that may present when this PRN may be necessary. We all know that a teacher cannot assess for symptoms that would warrant a medication's administration. But, we also know that teachers are pretty smart and can identify "not normal."
Create a master list of all the children taking scheduled medications. This will help the other support staff to remember. They are busy and are not thinking about "nurse-ey" stuff. They are thinking about "administration-ey" stuff and will appreciate the reminder.
Create a health log. Regardless of whatever documentation process you have (paper or electronic), create a paper log that will offer a place to jot down the time and reason the student came for a visit to the health office. You may be at your other school when the morning "bump-to-the-head" has after-lunch irritability and difficulty concentrating. The health log is a quick way to make sure everyone is up-to-speed; it's kinda like offering report to the oncoming shift. Not to mention it's a great way to know what the morning brought the office staff at the school where you spend your afternoons.
If you software has a "health alert" feature, get these out ASAP. If your school's software does not have a health alert feature, or if you do not document electronically, make sure that each and every teacher knows who they have in their classroom that has a medical need-to-know health issue. Heck! I even let the teachers know ON TOP of entering health alerts. (We use PowerSchool in our district.)
After allergies, I start digging into the ocean of immunization records to make sure that each and every child in my schools are documented. With that being said, I have been known...like many of you school nurses and like most EVERY teacher...to start my year early and get a bit of work done before the school year begins. If you start early, get the immunizations under control and then move onto the allergies. But consider allergies and allergy communication a priority.
Okay. We've covered a ton of get-it-done-now items. Let's break the school year down...month by month:
August and September
1) Health alerts and allergies
2) Review immunizations
3) In-service teaching for the staff:
Seizures
Basic first aid
Allergies and epi-pens
Universal precautions
4) I schedule my kindergarten fluoride treatments for the week of Halloween. I do it now so I can get on the schedule.
5) Classroom supplies for very minor issues (and "subjective" issues).
6) Prepare the duty's (recess and break on-duty teacher) supplies for minor issues.
7) Prepare a substitute book to make sure a substitute school nurse knows what to do if you have to unexpectedly be absent.
Prepare a health-alert book. It's a record that can be grabbed if there is a need to evacuate the building. This will identify the children with special health needs. A child with a bee allergy who is stung during a fire drill needs to be identified.
Organize the epi-pens and nebulizers. I keep mine in a box to grab-and-go for evacuations.
October
I am preparing an immunization report during October for the state. (Idaho requires reporting by November 1st.) If there is a child who has not been immunized or whose parent have not completed the exemption documentation, I offer lots and lots and lots of helpful encouragement.
Set up vision screenings. I've seen lots of suggestions, but I suggest vision screenings be performed on kindergarten, 3rd, 7th, and 11th grades, transferring students without a vision screen, and at any other time deemed necessary.
Fluoride treatments for the kinders.
Continue any lingering first-of-the-school-year to-dos.
November / December
Arrange with a local healthcare provider or pharmacy to have flu shots available for the faculty. Last year we worked with a pediatric team to offer flu shots for the children...at school. (The children were very, very brave.)
This is a good time of the year to start presenting "Cover Your Cough" and "Germs Are Not For Sharing" in the classrooms or during library time.
Puberty Talk...most of the other nurses in my district wait until the last quarter of the school year to teach puberty -- or the "Growing-Up" talk -- to the 5th graders. Me? I feel there is just too much "excitement" for the summer and the kids have become very comfortable after spending 9 months together that they "behave" differently. Doing this during the week before Christmas break has worked much better for me.
January / February
Review all the records for any missing immunizations. Continue to encourage compliance (as dictated by laws and district policies).
Follow up with vision screenings for the October screenings that may have identified a problem.
Every other year, we have Delta Dental come to our school and perform dental screenings and sealants for our children.
March / April / May
If you have not done "the talk," then this is the time where you will want to start planning this.
Prepare for field trips and make sure you know who's leaving and when.
Registration for children moving up from lower grade schools. For me, I have kindergarten registration during this period of time. You may have elementary children moving to your middle school or junior high or junior high children moving to your high school. This is a great time to make sure they have (or plan to have) all the immunizations up-to-date. This will give the parents and guardians the summer to catch-up.
Start calculating how many pills you will need to get through the school year and end up with none after the last dose on the last day.
For all the children "graduating" to the next school, call the receiving school nurses and give them a brief report on children with special health concerns.
End of the School Year
Return all the medications to the parents. Inevitably, there will be one or two tablets left for the children taking medications (despite your efforts to calculate the exact numbers needed). Have the parent pick these up. I don't send them home with the children.
For any piles of health records that remain, I put them in the children's school files to follow them through their school years.
And...please...beware the lulls of April and the giddiness of May. Summer is so overrated. Who in their right mind could enjoy 70 days of warm, sunshine-filled freedom?
For any school nurse who thinks this list is an exhaustive list, you must be in your first year and just getting started (I'm teasing! I'm teasing (only a little though)). There is so much more that will come up during your school year -- so many opportunities to try new things and explore different heath teaching goals. I make goals each and every school year...things I want to try and explore...and just like the summer that is passing away, I never get all my goals accomplished. But, I start. And, like a long road trip, starting is all you have to do. Where you end up will be a complete surprise.
Enjoy your school year! It's gonna be GREAT!!