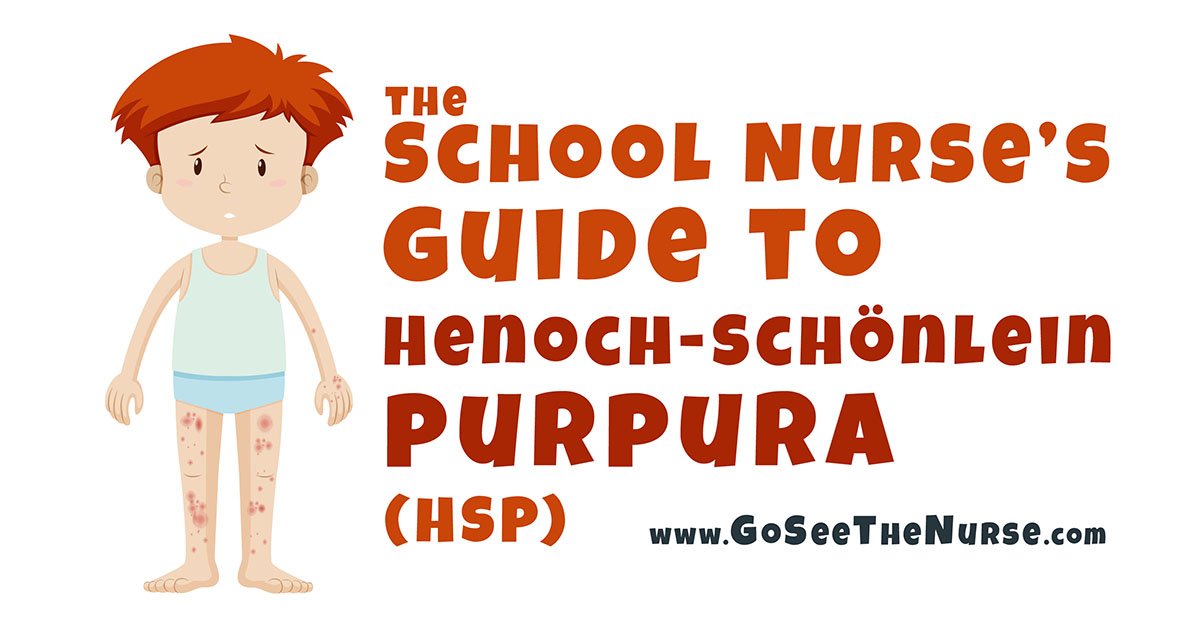 School Nurse Guide to Henoch-Schonlein Purpura Syndrome (HSP)
"Nurse Kevin, I have a little rash." A little girl enters my office after missing a few days of school earlier in the week and is wanting me to look at a rash on her legs. And, as far as rashes go, this one was a doozie!! The rash was extensive and widespread, covering her legs! However, it did not appear to be causing the child any discomfort, nor was it "itchy." As a school nurse, "rashes of unknown origin" are enough for me to make the executive decision to exclude! Exclude! Exclude! But first, I have to determine if the rash was actually "unknown in origin." Most rashes don't usually occur due to "unknown origins." Rashes occur for a reason.
This little girl's rash was widespread, covered larger patches of skin, was darker pink than the surrounding skin, and had defined edges. It was mainly noted to be on the legs. As far as her torso, she said there were some areas, "but my legs are the worst."
A call to mamma followed and the unknown became known very quickly, "She had strep throat, and they put her on Amoxicillin. Now she's on 'zithromoxin' [Azithromycin]." The mother continued to report that she took her child into the urgent care "because the rash gotten so bad. So, they took her off the Amoxicillin." The child was demonstrating a reaction to the antibiotic. Notice I said, "demonstrating a reaction" and not having an "allergic" reaction. The rash may be a side effect or a reaction, but not a true allergy. Is this OK? Well, depends on the other symptoms, the parent's direction, and the doctor's orders. We school nurses are kinda out of the loop on the decision to change antibiotics. But, we school nurses are FAR FROM BEING OUT OF THE LOOP. We must continue to assess and watch for symptoms from two other conditions that may occur: Henoch-Schonlein purpura (HEN-awk SHURN-line PUR-pu-ruh) and Stevens-Johnson syndrome. Let's talk about Henoch-Schönlein purpura (HSP) this week and Stevens-Johnson syndrome next week.
Antibiotic-associated Henoch-Schonlein purpura syndrome
Henoch-Schönlein purpura (HSP) is rare and fortunately self-limiting. This inflammatory disease of the blood capillaries could be secondary to either an infection or a reaction to the antibiotics used (among other possible causes). Though there are rarely any other symptoms other than a darker, purple, bruise-like rash, complications such as renal failure can occur.
HSP causes small blood vessels to become inflamed, and this, in turn, causes some leaking of blood that becomes apparent as darker, bruise-like or petechiae-like "rashes" on the skin (mainly the lower extremities). There may be a bit of a stomach ache and even joint aches. The child may even report that there's "blood on my poop," or some blood is noted when they wipe their behinds. The child may confide in the trusted school nurse and report these symptoms. These symptoms themselves may indicate another, more serious problem one of which affects the kidneys. The children may not report blood in their urine (it may be microscopic hematuria). However, if you start seeing the dark, bruise-like, rash-like area to the lower extremities, and there are complaints of a belly ache, it's time to let the parents know more about this condition...it's time to teach.
You may be thinking that the parents will surely take the child in to see the doctor if these symptoms occur. Yes, you'd think. But what if these symptoms are post an already-diagnosed "amoxicillin rash" or other "rash diagnosis?" Even the most attentive and caring parent may think that this darker rash is just the same rash that "got a little worse." And, what antibiotic doesn't cause a bit of a belly ache (sometimes the blood in stool will be like the microscopic hematuria and occult in nature)? Though parents will get the mommy-sense and the daddy-sense like we nurses get the nursey-sense, our nursey-sense is just a bit more keen and has a bit more experience to pull from.
Symptoms of Henoch-Schönlein purpura (HSP)
Most notably, there will likely be reddish-purple, bruise-looking spots mainly on the legs, feet, and often on the child's boo-hiney. These are the tell-tale universal sign of Henoch-Schönlein purpura. Yes, the rash can appear on other parts of the body, but you'll mainly see it down-low rather than up-high. Expect to see areas around the belt-line and where the socks "grab" the ankles where the bruise-like areas are darker. Makes sense because of the pressure from these "cinched-up" types of clothing.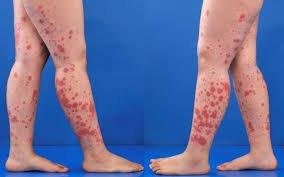 The child may present with swollen and painful knees (as well as other joints). What child doesn't have knee discomfort? After all, they are all growing up. But keep this in the back of your mind if you have a child with joint pain (arthritis-like in nature) who has other findings or has been on a new medication like an antibiotic. Also, this joint discomfort...it may show up BEFORE the purple rash. Fortunately, like the rash, once the ailment resolves, so does the joint pain.
That belly ache may be a symptom of Henoch-Schönlein purpura. Sometimes even before the rash appears, the child may be having a stomach ache, experience a bit of nausea, or be all-out vomiting. Bloody stool is also seen as a symptom of HSP. But, visible blood in the stool as well as in the emesis is always a call home to mamma, regardless of what may or may not be causing the bleeding.
Henoch-Schonlein purpura may result in hematuria (blood in the urine). You may or may not see this blood. This is a pretty serious issue because, as well school nurses know, there is a lot of blood passing through very, very VERY small vessels and other components within the kidneys. Usually, this too will pass, and all will go back to normal after the child resolves. However, this condition may end up causing serious and long-lasting damage to the kidneys. And when I say, "long-lasting," I mean for the rest of the child's life to the extent of complete renal failure resulting in dialysis or even a kidney transplant.
Do we exclude?
There are two reasons to exclude from school (medically speaking). 1) Can they spread the illness to others? And, 2) Is the child able to participate in the group setting and learn? Being that neither the amoxicillin rash (or other antibiotic) nor the Henoch-Schönlein purpura is contagious, there is no reason to exclude for that reason. But, if the child is having lots of pain from the arthritis-like symptoms and the stomach ache, not to mention the possible vomiting and bloody stool, staying home is Nurse Kevin-approved. And when I say "Nurse Kevin-approved," what that really means is, "Nurse Kevin INSISTED."
Treatment of Henoch-Schönlein purpura
The doctor may prescribe an anti-inflammatory Rx or other medications, depending on symptoms, and likely only for the symptoms themselves to help the young-un feel better from the symptoms being experienced. (Whew! That was a mouthful.) There is no treatment for Henoch-Schönlein purpura, but the doctor may prescribe or suggest OTC ibuprofen or naproxen. However, we need to keep in mind that there is an increased risk of bleeding with non-steroidal anti-inflammatory drugs (NSAIDs). And...well...bleeding is kind of a big issue with Henoch-Schönlein purpura.
There is no actual treatment for Henoch-Schönlein purpura per se' — only for the symptoms.
Other facts about Henoch-Schönlein purpura
Well dang. That's about it. Except for one thing: Have you ever seen a case of Henoch-Schönlein purpura either at your schools as a school nurse or out in the world as a "regular nurse?" If so, share your experience in the comment section below. I know I'd like to know more about this condition.
https://www.healthline.com/health/parenting/amoxicillin-rash
https://www.mayoclinic.org/diseases-conditions/henoch-schonlein-purpura/symptoms-causes/syc-20354040
https://www.theatlantic.com/technology/archive/2014/10/what-happens-when-chemists-dont-wash-their-hands/381587/
https://www.pediatricsconsultantlive.com/pediatric-gastrointestinal-disorders/henoch-schnlein-purpura-14-year-old-boy
https://www.kidshealth.org.nz/henoch-schonlein-purpura-hsp
https://www.hss.edu/conditions_steroid-side-effects-how-to-reduce-corticosteroid-side-effects.asp
http://www.portlandpediatric.com/panw-blog/health-news/rashes-on-amoxicillin-when-is-it-a-true-allergy
PS: "Regular Nurse?" Whoever calls nurses "regular" ain't ever been a nurse. We're a bunch of weird folks taking care of weird folks. And, we all know we can fix "weird;" all we can do is document it!
PSS: How does a nurse handle Metronidazole? Very carefully because it's Flagyl.
Okay! Okay! One more: Poop jokes are not my favorite jokes, but they are a solid number two!!
Drop Mic inserted here!
See y'all next week. We'll talk about Stevens-Johnson syndrome. It's a rare disorder of the skin and mucous membranes but is pretty dog-on serious. It's usually a reaction to a medication or an infection...sounds a lot like the pathway to Henoch-Schönlein purpura...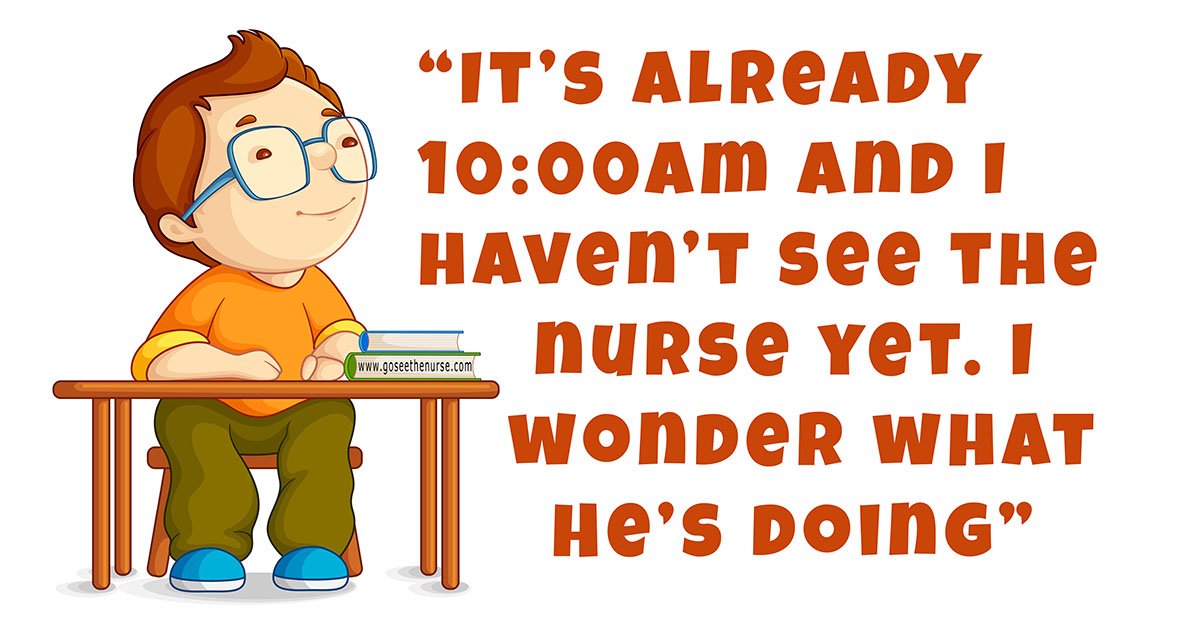 He would know what Nurse Kevin is doing if he subscribed to the updates from Go See The Nurse!  Start getting (non-spammy) updates from Nurse Kevin!
Your information is kept private! Here's my Privacy Statement.
Nurse Kevin